Collin Wheeler
RE 410
Leisure through the Ages (F14)
Free Play Questions
The Sources
Mind at Play
After reading Mind at Play I noticed that I had felt some the freedom and wandering that this chapter talks about while I was writing my poem
.
"
Creative work is play; it is free speculation using the materials of ones chosen form
"
(Nachmanovitch 42) I felt this to be very true when writing because I was thinking of ways to make the poem flow
.
I used took stories that Becca Hesselink had been telling me about her summer working at Uncle Ducky's and tried to combine them all into one poem
.
While writing my poem I was able to let my mind
"
play
"
and create a single poem from many stories
.
"
Play is without 'why
.
'
"
(Nachmanovitch 45) My creative process while writing that poem definitely supports that statement and it is evident in my work
.
The Work
Playing Together
I am not usually a dancer
,
but I did enjoy dancing as a group at Dance Zone
.
Something about learning new things as a group really interested me
.
I found it much easier to learn how to do the steps when I was not only able to watch the others do them
,
but to learn the steps with them
.
Some people learned the steps way faster and made it more interesting for me
.
Usually I wouldn't be interested in dancing
,
and I was not at first
,
but like this chapter said
,
"
A releases B's energy
,
B releases A's energy
.
Information flows and multiplies easily
."
(Nachmanovitch 96) There were definitely people in the class that were way more interested in dancing from the very beginning and those peoples energy and enthusiasm got the rest of us going
.
Once us B's were going
,
we were giving the A's energy to keep going too
.
It's definitely interesting to see how that happens
.
Obstacles and Openings
The Judging Spectre
This is something I was able to relate to very much
.
"
Hitting the wall
"
after writing for a long period of time or after finishing assignments for other classes
.
When you are fighting to stay awake to meet a deadline
,
but nothing you are writing is making sense
.
You are just writing to write to hit the 5 page minimum
,
cover all of the topics
,
or the 1000 words in length
.
"
The creative person can be seen as embodying or acting as two inner characters
,
a muse and an editor
."
(Nachmanovitch 133) Essentially you are trying to inspire yourself
,
while at the same time critiquing everything you write down
.
I have experienced this many times in this class
,
as well as others
.
Sometimes you just need to put the assignment down and come back to it
.
The Fruits
Quality
The project I enjoyed the most this semester was the art project and I believe it was my highest quality work because of that
.
This was the assignment that I was most excited about from the first day we talked about it
.
"
Quality can be compromised when the gyroscope of our inner knowing
,
integrating so many dynamic balancing acts
,
is pulled off center
."
(Nachmanovitch 179) I interpreted this as
"
However much energy you put into one thing
,
you will be taking that much away from another
."
I really wanted this project to be visually different and something that people would not only want to display
,
but would be able to relate to and find a sense of place through it
.
Powered by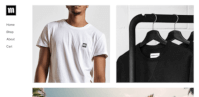 Create your own unique website with customizable templates.