RE110 Philosophy
Collin Wheeler
RE110
Prof
.
Teeters
Philosophy of Leisure
Section I
1.
Leisure can be defined through five characteristics
,
which are perceived freedom
,
intrinsic motivation
,
perceived competence
,
positive affect
,
and active engagement
.
The biggest impact of where my leisure values come from would be my parents
.
They have influenced my intrinsic motivation and positive affect of how I perceive leisure
.
My childhood was one with a
"
work before leisure
"
upbringing along with
"
don't spend what you can't afford today
"
which has really shaped how I can spend my leisure time
.
I agree with this philosophy because it is nearly impossible to engage in leisure if you do not have time or funds to do it
.
2.
The morality of leisure I feel most attached to is physiological needs along with self-actualization
.
I like to give my self goals based on what I feel are high-level goals so that I achieve a more toned skillset than others
.
3.
I try to compare myself to others on a daily basis
.
I like to observe what others are doing and exceed their success level
.
Once I reach that level I try to further my self even more so that I can maintain that level
.
4.
My diary is a good reflection of how I spend my time
.
I like to get my work done as fast and nicely as possible so I can use the remaining time to engage in leisure or recreation activities
.
5.
I most closely agree with positive affect when trying to identify with characteristics of leisure
.
The best part about skiing
,
skating
,
or biking is the feeling you get when you do something that you never thought you would be able to do
,
which is what makes me go back and do it again
.
6.
I like to live use a quality of life philosophy
.
I like to live a life in which
,
the decisions I make are made strictly on what is going to make me happy and increase my overall satisfaction
.
7.
Leisure- Free time when you have no other activities or goals that need to be achieved other than the ones you set for yourself
.
Recreation- the activities you engage in while on Leisure time
.
Play- Spontaneity
,
creative
,
no ruled activity
.
Work- where you go so you can afford to engage in leisure
,
recreation
,
and play type activities
.
Life Satisfaction- How satisfied with the ratio of mixing all of these activities
.
8.
Rank of importance
.
1.
Life Satisfaction
2.
Recreation
3.
Work
4.
Leisure
5.
Play
Section 2
"
B
" Mission Statements
1.
Jackson Hole Resort
"
We enrich lives by enhancing an untamed recreational experience and inviting guests and employees to enjoy the rugged natural beauty and western culture of Jackson Hole
.
We create memories
."
2.
Patagonia Clothing
"
Build the best product
,
cause no unnecessary harm
,
use business to inspire and implement solutions to the environmental crisis
."
Section 3
The reason I picked Jackson Hole and Patagonia clothing is because they bot have mission statements that I consider being very focused on getting people closer to the outdoors
.
I share this same feeling which is why I look up to these companies and use their mission statements as a guide to help people become one with the outdoors
.
My goal for the next year is to land an internship with one of these companies so I can work with people that truly enjoy exposing others to the outdoors
.
Section 4
The role of Commercial Recreation
Commercial Recreation can be anything from outdoor gear shops
,
backcountry guides
,
or mountain resorts
.
However
,
they all share a similar goal
,
and that is to get people in touch with the outdoors
.
Without that person showing you where to ski
,
which trails to hike
,
or what bike to buy getting into outdoor recreation activities cannot only be intimidating but dangerous
.
It is important that commercial recreation agencies exist to help these people get where they need to go
.
These experts can be compared to a coach of a sports team
,
or some sort of teacher
.
Powered by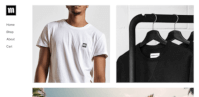 Create your own unique website with customizable templates.