Examples of IMBA survey
9/15/14
4 guys from out of town
Where were they from?
Wasusau, Wi
How many times have they been to Marquette to ride?
2 Visits




1 Visit




1 Visit




4 Visits




How did they hear about Marquette Trails?
Word of mouth, but the IMBA certification is a good source of "backing that up"
Where do you eat when you visit Marquette?
Local restaurants, grilling out mostly though, enjoys Microbreweries
Where are you staying?
Camping at Tourist Park.
9/21/14
Husband and wife
Where are you from?




Rhinelander, Wi




2). How many times have you been to Marquette?
Once, 13 years ago to ride bikes




3). Where are you staying, and for how long
Tourist Park, 1 Night




4). Where do you eat?
Sweetwater, Border Grill. Local Restaurants that sponsor the trails




5). Estimate of how much money spent outside of lodging and food?
$0, just gas money




6). Does the IMBA Ride Center impact your decision to ride here?
Yes, Definitely. Familiar with IMBA work and the quality of trails they support.




7).
What Other trail areas do you ride?
RASTA, Rhinelander Area mtn bike area. and Copper Harbor. Midwest region
Powered by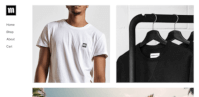 Create your own unique website with customizable templates.