Section B:

Demonstrate that you have competency in the Student Outcomes for Northern Michigan University's Liberal Studies.


Collin passed all of his Liberal Studies classes, therefore his professors for those classes believe that makes me competent in them. Because Collin took some of these Liberal Studies classes at Oakland Community College, for the purpose of this assignment Collin has chosen one class out of each Division to summarize.
DIVISION I: EN 111 College Composition 1
Collin took both of his Division I classes at Oakland Community College in the 2010-2011 school year. Because of this he does not have work from these classes. However an example of Collin's writing ability can be viewed
here.
The goals of this division were met before March 2015.
DIVISION II: EN 316 Native American Novels & Poetry
EN 316 analyzed the works of contemporary Native American poetry and stories and linked them to situations that have occurred in the past in both Native and Non Native communities. Reading works from authors like Simon J. Ortiz not only told the story of the Native people, but similarities between other cultures which was a main focus of Collin's
midterm paper.
The goals of this division were met before March 2015.
DIVISION III: GC 255 Physical Geology
GC 255 taught not only about different rock types and compositions, but erosion, how to minimize it, and some of its outcomes. Using the information learned in GC 255 Collin wrote a
research paper
for RE 371 Protected Area Management regarding mountain bike trail construction. The sources Collin cited for this paper came from government sites as well as scientifically researched individual case studies. The goals of this division were met before March 2015.
DIVISION IV: SO 113 Social Problems
While enrolled in SO 113 discussions focused mainly on global crisis that were occurring in the world at that time. Topics of terrorism, malnutrition, and disease were discussed, debated and written about. Collin chose to write a paper on the
social standpoints of AIDS
for his final paper. The goals of this division were met before March 2015.
DIVISION V: IS 102 Beginning Spreadsheets
This course focused on the fundamentals of database systems. Collin studied the basics of database vs. file management systems; functions, components, and personnel involved in a database; database, client-server, and transaction processing architectures; and relational data models and operations. Collin had to perform business requirement analysis, perform data definition, manipulation, and queries using basic SQL, create forms and reports; and analyze macros, procedures and triggers. Concepts of database planning, design, and administration fundamentals, data warehousing, and data mining were also covered. The goals of this division were met before March 2015.
DIVISION VI: AD 200 Native American Art & Architecture
Art, architecture, and tribal practices based on different regions were discussed in this class. This information was used to lead discussions among peers during class in which students would compare and contrast arts among Native American cultures. This Division goal has been met before March 2015.


Powered by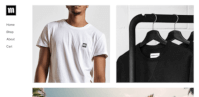 Create your own unique website with customizable templates.