Ski The Mitten
Business Plan
Collin Wheeler
Table of Contents
·
Executive Summary…………………………..………… 3
·
Mission, Vision, and Culture Statements…………..…...4
·
Company Description/Overview………………………...4
·
Opportunity Analysis and Research……………..……...5
·
Marketing Strategy and Plan………………………...….7
·
Management and Operations………………………...….9
·
Financial Analysis and Projections………...…………..12
·
Funding Request………………………...………………14
·
Exit Strategy…………………....………………………..14
·
Timeline (Milestones)………….....……………………...15
·
Appendices………………………….……………………16
Executive Summary
Ski The Mitten is a web-based company that ties the skiing community of Michigan together. The site will include weekly articles about ski care/tips/weather patterns/etc. Every season there will be a movie available for purchase featuring the best skiers in Michigan riding within the state, and other places around the globe. There will also be merchandise available for purchase including T-shirts, hoodies, hats, stickers, and bumper stickers. Users will also be able to share photos, videos, and secret stashes, if they desire.
The website is scheduled to launch on December 1st 2012. Registration to the site is free with ability to purchase advertising space on the site. This will keep the site free for users but increase the income of money to be used on website building, hosting, and promoting. The website will also have constant weather updates with live webcams the ski resorts throughout the state.
SkiTheMitten.com will feature a storefront with a shopping cart to purchase apparel, stickers, and other accessories. T-shirts, hoodies, and stickers will available for purchase immediately with delivery guaranteed by the first week in January. Profits from the first year of venue will be used to create a ski movie the following winter, to be released the winter after that. Ski movies will be released annually throughout the longevity of the company. The films will feature skiers from Michigan skiing in Michigan and in other parts of the world, showcasing the best the state has to offer.
Ski The Mitten will create a "fellowship" in both recreational and hardcore skiers in Michigan. The goal of the company is o produce stylish clothes to wear on and off the hill, produce above average films based out of Michigan, and unite skiers, and even snowboarders, of Michigan.
Mission, Vision, and Culture Statements
Mission
The goal of ski the mitten is simply unite the skiers of Michigan in a way that has not been done before. Utilizing the Internet, word of mouth, and on hill promotion to build up the company's reputation with a core group of skiers.
Vision
The long-term vision is to be established throughout the Michigan ski community to work closely with ski resorts, shops, and ski bars to create partnerships, collaborations, specials, and limited edition items.
Culture
The goal of the firm is too stay small, with no more than five employees, yet maintain a positive reputation with the community and have a positive financial structure. The low number of employees will keep payroll low maximizing profits and making sure everyone is constantly staying productive.
Company Description/Overview
The company was founded in winter of 2011 and expansion is going to be completed by winter 2012. Previously existing vinyl cutters have been used in the past but the plan for this year is to purchase two more vinyl cutters and two new screen press' to maximize efficiency and production output.
Opportunity Analysis and Research
Environmental Analysis
The atmosphere in Michigan is very positive and cooperative with the goals of the company. Marquette, Michigan was just voted in the top 32 ski towns in the country by Powder Magazine. Aside from that Mt. Bohemia, which was voted the number one backcountry resort in the country, is just a short two-hour drive from the Northern Michigan University campus in Marquette. The only potential threat to this location would be a bad snow year, which would make people not want to go out and ski. If people do not have a desire to go out and ski they will most likely not want to spend money on ski related goods and apparel.
Industry Overview/Analysis
The industry that Ski The Mitten wishes to enter is relatively untapped. There are many ski apparel and film companies, but none of which are specific to catering toward a Michigan based demographic. The same can be said for the skiing websites. By entering this market with proper planning, Ski The Mitten will be able to control new segment of the Michigan skiing demographic. When collaborating with other companies, like Boyne Resorts, Shaggy's Copper Country Skis, or Short's Brewery, we can also enter new demographics that reach far beyond those of the core skiers.
Proof of Market
The target market will be focused locally mainly in the state of Michigan. There will be potential to expand to a national level through tourism and if resorts choose to carry apparel. Similar companies have shown to be very successful in this type of market. Ski The East, which is an East Coast company similar to this, has been around for almost 5 years and has had very high success rates due to the fact that everyone wants to represent where they are from. When collaborated with ski resorts a wider market will become available because tourists like to purchase souvenirs when they go some place new or to a favorite destination. The key is to have fresh looking designs that will catch peoples eyes and make them think that they need to have it.
Target Market
The initial target market for Ski The Mitten will be the core group of skiers in the state. This consists mostly of the young adult park skiers, racers, and backcountry skiers. After the first few seasons the target market will expand to a broader range of skiers. Once Ski The Mitten is in retail stores at ski resorts and collaborations with resorts have started the target market will become larger than just the core group of skiers. The ultimate goal is to be in touch with the backbone of the community while not intimidating the weekend warriors and recreational market.
Competitor Analysis
Currently there are no competitors for this type of company. The main source of competition will be making it into a retail setting at a ski resort before we are seen as a threat. The goal of Ski The Mitten is for ski resorts to see us as a potential partner, not as a company to compete with when selling mountain branded merchandise.
Marketing Strategy and Plan
Product
The apparel will be created out of finer type materials like Merino Wools, Seersucker, Corduroy, and Flannel all of which has been treated with some sort of water resistance so that is able to ski in. Some shirts will feature detailed designs on the front or back, while others will keep a simpler look and will just showcase a small Ski The Mitten logo on the chest or pocket.
Price
The goal of Ski The Mitten is not to be the cheapest company on the market. Ski The Mitten will fall between the more expensive brands (Jiberish, Voleurz, or Saga) and the cheaper brands (Columbia, Champion, or First Drop) and create blend between upper end quality and limited availability.
Place
For the two seasons Ski The Mitten apparel will be available for purchase strictly online. After that small, local ski shops will be able to carry inventory in store. Once this is proven to be successful and a firm reputation has been solidified Ski The Mitten will start to do collaborations with resorts and ski town companies. This will create a sense of membership for the first two seasons and a tie a deeper feeling of connection with customers once the apparel is available to a broader demographic.
Promotion
Ski The Mitten will be promoted on skiing websites like Newschoolers.com, Unofficalnetworks.com, and Tetongravityresearch.com. There will also be small ads featured in Powder Magazine, Freeskier Magazine, and Skiing Magazine. This will help target the exact demographic Ski The Mitten is trying to reach.
After the first two seasons Ski The Mitten will have small advertisements featured on hill at ski resorts on the back of chairlifts and on the tops of poles. There will also be small advertisements placed on trail maps to encourage skiers to check out the site.
Three-Year Sales Forecast
The first season is predicted to have low sales aside from T-shirts and hooded sweatshirts. Predicting 20-30 T-shirts and 15-20 hooded sweatshirts.
Second year will have considerably more sales with the introduction of beanie hats and a hopefully larger following and customer base.
The third year of Ski The Mitten will most likely be the largest until introduction to a retail setting. This will be due to the release of the ski movie along with premiers of the movie in ski towns throughout Michigan like Petoskey, Boyne, Traverse City, and Marquette among many others.
Management and Operations
Management Team
The Management team will consist of Collin Wheeler for the first three seasons. After the third season a second manager with the right set of skills will be introduced.
Collin Wheeler has three seasons in the ski industry working for Boyne Resorts, Don Thomas Sporthaus, and Down Wind Sports. Five years of prior ski racing experience while being active within the freeski community. Currently attending Northern Michigan University pursuing a degree in Outdoor Recreation Management.
Research and Development
R&D is very straightforward. Sell what people buy. Offer a few styles to choose from the first year and produce more of it for the next season. Discontinue what does not sell as well as the other products of the same in the category.
The other option is to collaborate with other companies to see what is selling from their line up and create similar yet unique designs that will be popular with the core demographic and then spread throughout the broader market.
Location & Facilities
The beauty of this project is that it can be run out of my basement, or anywhere for that matter. Because this is a web based company it can be run pretty much anywhere with Internet access. As far as production of goods goes, a basement or pretty much any empty room will more than suffice for use. If the company grows enough and proves to be very successful a warehouse with an office might be purchased, but nothing is planned in the near future.
Production/Operations and Inventory
Production will be based out of the basement of my house at first. The plan will be to produce 50 T-shirts; 10 of each size S-XXL tall, and 30 hooded sweatshirts; 6 of each size S-XXL tall. Screen-printing will be done in the basement shop with our new vinyl cutters and screen printers. There will be no reordering of clothing after all sizes have sold out until the second season.
Major Business Risks
Theft
The most likely type of risk for Ski The Mitten would be theft in a retail setting. Once Ski The Mitten is available in retail stores it becomes easier to steal and get a hold of. Internal theft is also a very likely possibility when in retail settings. The number one way to avoid this kind of risk is to engage customers in a positive way and also to keep employee satisfaction at a high level so that they want what is best for the company as well.
Dry Winter
A winter without snow would be seen as an environmental risk that cannot be controlled. When reflecting on previous sales data from retail stores like Boyne Country Sports or Don Thomas Sporthaus it can be noted that winters like the past two to three, which have had very little snowfall, typically do not reach sales goals of previous years. This is most likely do to the fact that no one wants to spend money on ski related gear and snow equipment when it is not even snowing outside.
No Sales
If all goes wrong in the advertising and promotion area of Ski The Mitten the potential outcome could be very dire the end result could be selling very little inventory, or nothing at all for that matter. To prevent this as much as possible Ski The Mitten will be targeting a core demographic of skiers through advertisement in ski magazines popular with a younger group.
Flood
Another act of god risk that could be potentially possible due to location would be flooding. If the basement Ski The Mitten is working out of floods due to rain or snow then all of the equipment and inventory could be destroyed. Flood insurance will be added to the insurance plan to reduce cost of damages and prevent loss of inventory.
Manufacturing Defects
Manufacturing defects are among the most common when mass-producing clothing. Simple mistakes like improper use of screen printer, poor knowledge of clothing, or even just rushing to get things done can result in costly mistakes that take away from the company's profits. The best way to avoid manufacturer defects is to have knowledge on the tools being used along with not rushing to get a job done. This will also greatly improve the overall quality of the apparel that comes out of Ski The Mitten.
Financial Analysis and Projections
Financial Projections
Rent & Utilities (First 6 months)
$0
Utilities (First 6 months)
$750
Insurance (First 6 months)
$1,759
Salaries & Wages (First 6 months)
$2,500
Marketing (First 6 months)
$750
Supplies
$3,500
Website Development
$500
Legal & Accounting Expenses
$2,000
Working Capital Requirements
$11,759
Start-Up Assets
Beginning Inventory
$4,000
Building Improvements
$12,000
Signage
$4,500
Furniture & Fixtures
$17,000
Display Products/Models
$6,500
Point of Sale Hardware & Software
$2,500
Other Computers & Software
$3,000
Tools
$4,200
Car Vinyl Wrap
$1,500
Security Equipment
$1,200
Other
$3,000
Total Start-Up Assets
$59,400
Total Start-Up Requirements
$71,159
Break-Even Analysis
Break-Even Analysis
Year 1
Year 2
Year 3
Sales
$10,000
$12,500
$23,000
Cost of Goods Sold
$3,500
$4,700
$10,000
Cost of Goods Sold % Sales
35.0%
37.6%
43.5%
Gross Profit
$6,500
$7,800
$13,000
Gross Profit % Sales
65.00%
62.40%
56.52%
Fixed Operating Costs:
Rent
$0
$0
$0
Utilities
$1,500
$1,745
$2,100
Insurance
$3,500
$3,500
$3,500
Salaries
$5,000
$10,000
$15,000
Promotion
$1,500
$2,500
$3,000
Legal & Accounting
$2,500
$2,500
$2,500
Other
$1,000
$1,000
$1,000
Depreciation
$500
$1,000
$2,300
Total Fixed Operating Costs
$15,500
$22,245
$29,400
Operating Income
($9,000)
($14,445)
($16,400)
Interest Expense
$5,141
$5,006
$4,861
Taxes
$6,000
$7,500
$13,800
Net Profit (Loss)
($20,141)
($26,951)
($35,061)
Funding Request
The goal of Ski The Mitten is to have as little outside funding as possible, aside from paid advertisements on the website. The company will be run for the first 2 years with $24,000 paid out of pocket paid by Collin Wheeler. Ski The Mitten is also seeking an $18,000 contribution from an out side investor with a 30% stake in the company. With this stake we will be looking for design input and opportunity to help the company grow with the investors opinions and beliefs.
Sources of Funds
Contribution: Collin Wheeler/Jeff Arlen
$24,000
Contribution: Investor (30% stake)
$18,000
Total Equity
-$8,841
Debt
$80,000
Total
$71,159
Exit Strategy
Ski The Mitten does not plan on failing, but then again most business's do not. If Ski The Mitten does not produce a 25% profit by the end of the fifth year the company will be sold off to a larger resort company like Boyne Resorts or Pure Michigan at a 90% stake. This will make sure the company is heading in the correct direction while still maintaining its core demographic group of Michigan based skiers.
If no one wants to purchase Ski The Mitten we will have to cut our losses and sell whatever manufacturing equipment we have to minimize as much loss as possible. Remaining inventory will be put on closeout special for customers to purchase at the wholesale price. Whatever is remaining of that will be donated to a charity group based out of Detroit, Michigan.
The website domain will still be owned and renewed by Ski The Mitten just in case there is ever an attempt to revive the project or a third party wants to buy out the rights to the site.
Timeline
2012-
Launch of Skithemitten.com
Release of apparel, hats, and vinyl stickers
2013-
Advertising introduced on ski websites like Newschoolers, TGR, and UnofficialNetworks
Ads featured in Powder, Freeskier, and Skiing magazines
Begin filming for ski movie to be released in 2014
2014-
Release of Ski Film in early fall
Analyze success of 2 previous winter clothing releases in preparation for the third.
Appendices
Proforma:
Powered by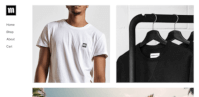 Create your own unique website with customizable templates.